20 marzo 2020
Coronavirus, the number of donations are rising as we keep working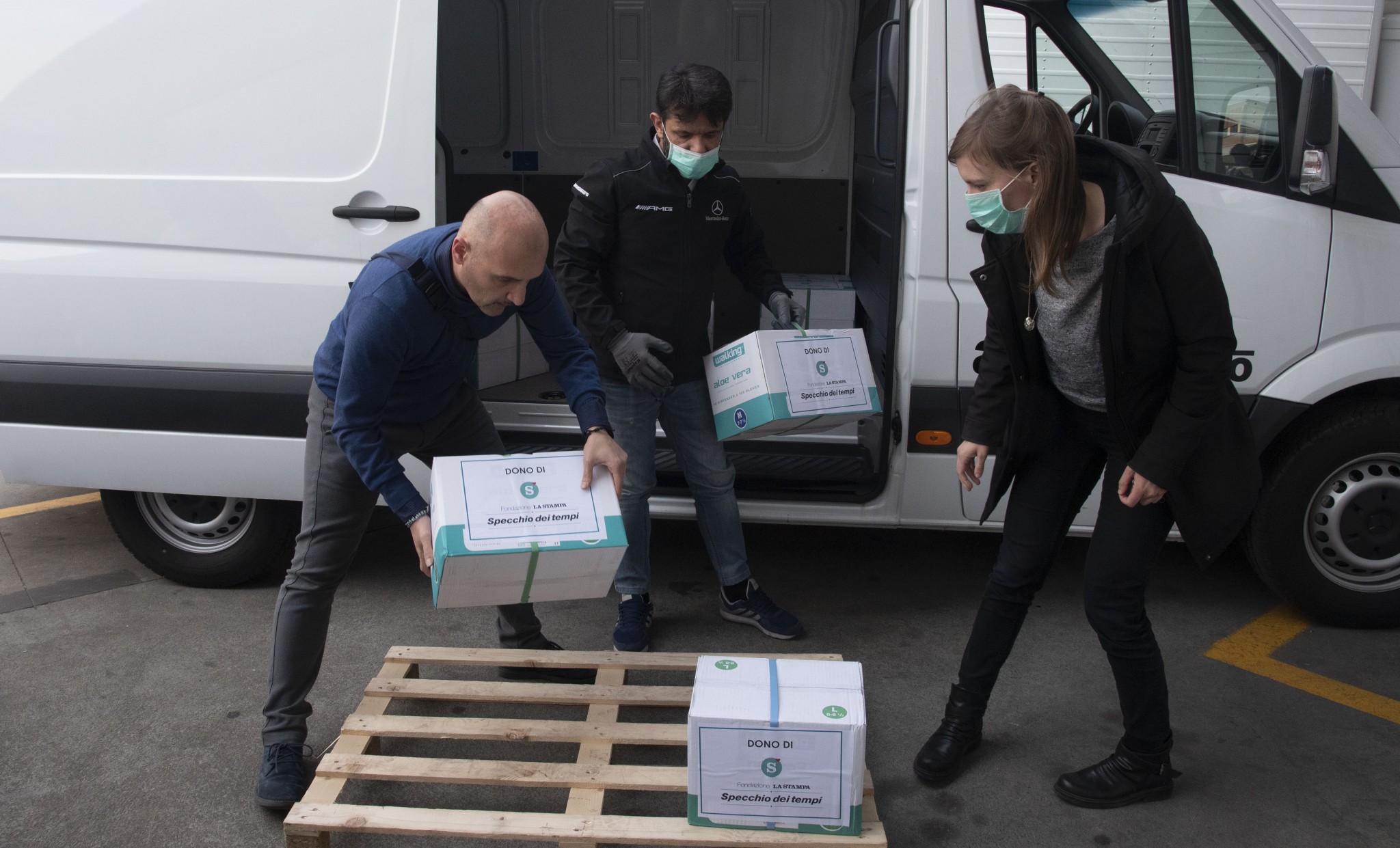 Angelo Conti e Francesca Giannotti
While the fundraising has reached 6.755.649 euro, donated by 6.722 people, Specchio dei tempi continues to buy, order and donate machineries and equipment to help those who are obstructing the virus in first person. We've delivered 10 vital-parameter monitors at the Nuovo Martini Hospital and one at the Geriatric unit of the Ophthalmic Hospital. Yesterday has been a tough day. The equipment and furniture for the Reanimation 1 unit of the Molinette has been delivered. A cardiological ultrasound has arrived at the Mauriziano Hospital. The Maria Vittoria hospital has received a temporary ultrasound for the Intensive Care Unit, this will be substituted by the definite one next week. X-ray equipment have been delivered to to the Martini and Giovanni Bosco Hospitals. The family doctors of the FMMG organization have received gloves, and (hopefully) will soon receive a great number of masks.
In the meantime our grocery bags for the elderly are still being delivered. Starting Monday a new initiative will start for the citizens over-80, they will all receive primary necessity goods of the value of 40 euros each. With this project we will reach 4350 elderly in Turin. A special thanks goes to Terza Settimana Association, Crescere 1979, Pam, Coop, the Borello Supermarkets and Defendini for their support for organizing the logistics. Without them this couldn't be possible.
Our campaign is rapidly spreading around the world. Starting yesterday our projects are also being promoted in Beijing with the help of Luca Bellet, a young social media talent, specialized in Chinese platforms. Also our website has been translated with Chinese characters. In the last 10 days we have received support from all over the world: 231 donors from 42 different countries for a total of 25 K. The entire globe is by our side. 
HOW TO DONATE
It's a very difficult time, but everyone can help Specchio. Donations can be done by Paypal or credit card on our website here, or through bank transit by registering it to Specchio dei tempi, via Lugaro 15, 10126 Torino, IBAN: IT67 L0306909 6061 0000 0117 200, Banca Intesasanpaolo; BIC/Swift: BCITITMM, or on the Global Giving platform.
Info: www.specchiodeitempi.org/covid19
Commenta con il profilo Facebook
Commenti