By Angelo Conti & Francesca Giannotti
10 million euros raised. This is an incredible record as this is the most conspicuous fundraising organized by a private foundation in Italy. Sara is the name of the donor that has brought our subscription to exceed the 10 million of euros. This outstanding milestone has been possible thanks to almost 16.000 single donations also thanks to the many donors who have tipped in from over 100 countries. We cannot forget about the multimillionaire contributions that have been done by Lavazza and the Agnelli family.
Specchio's team took action immediately in the first week of March in the healthcare sector. We committed to help doctors and nurses in distress during the violent emergency. Our focus was on finding PPE materials and other medical equipment that have all of a sudden become impossible to find. During the 60 days following the subscription, we have donated two CT machines and 146 avantgard machineries and equipments for 19 hospitals in the Piedmont Region. These include 68 pulmonary ultrasounds and monitors, 41 bed for the intensive care units, 27 equipments for the different units, 6 software instruments, 2 radiology systems. We have also supplied 1.013.752 PPEs that inclus, masks, coats, gloves, goggles, visors and she covers for 136 healthcare structures.
This intervention has absorbed almost half of our resources, while the rest of it has been strategically divided within different sectors such as the schools,the families and elderly in need. In the education sector, we took concrete action by donating one thousand tablets to 30 schools in Turin. This initiative was thought to help those children in need to keep up with the program and stay connected. We have also donated 300 sanitizing kits and billboards with the safety instructions to the schools in order make sure that they are ready to welcome the students back.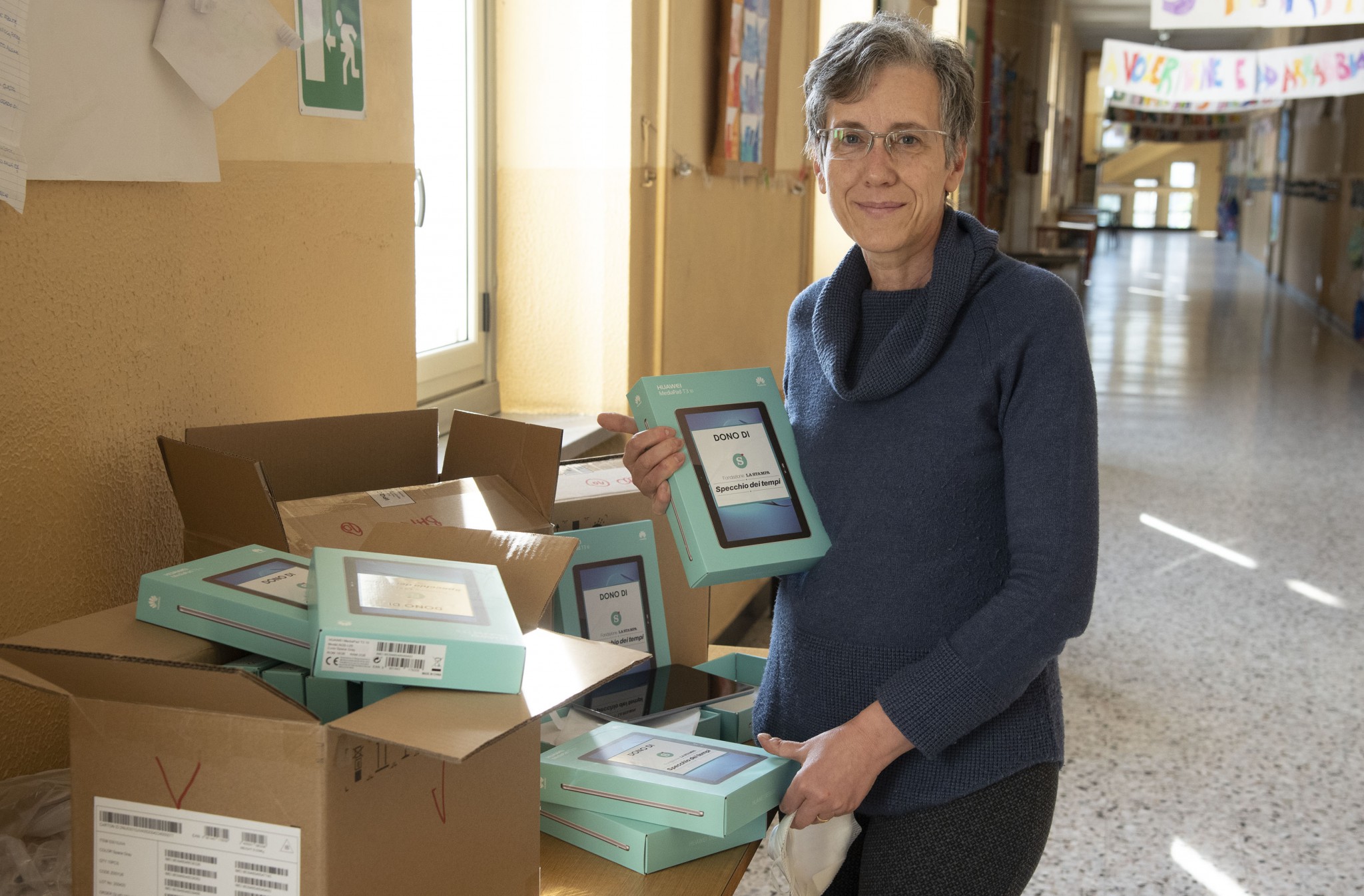 On a social scale we have assisted, together with the staff of our front office Specchio Point, thousand of families and elderly in need. In March we have started organizing the distribution of numerous grocery bags that have been delivered directly on the doorstep of these families.  This project is now evolving into the project of Specchio d'Italia.Thanks to the contribution of Reale Group and the Group Cassa di Risparmio di Asti, we will continue with this service in 18 cities in 5 different Italian regions. In the next weeks we'll be distributing up to 16.800 grocery bags.
Given the situation it is essential for us that our territory gets back on track. This is why we have, together with the contribution of Reale Mutua, launched a grant to help 220 small business in the area of Turin. The same initiative was thought for Cuneo, in the world known Langhe area, together with the support of the local banks and enterprises. The support that has and keeps on arriving from abroad is still incredible. The Intelligent Change of Los Angeles, California, by selling planners online, have donated 3575 US dollars in favor of Specchio dei tempi. Donations keep on arriving from Germany, Bangor (Maine), Norway. All with different amounts but always accompanied by words of support.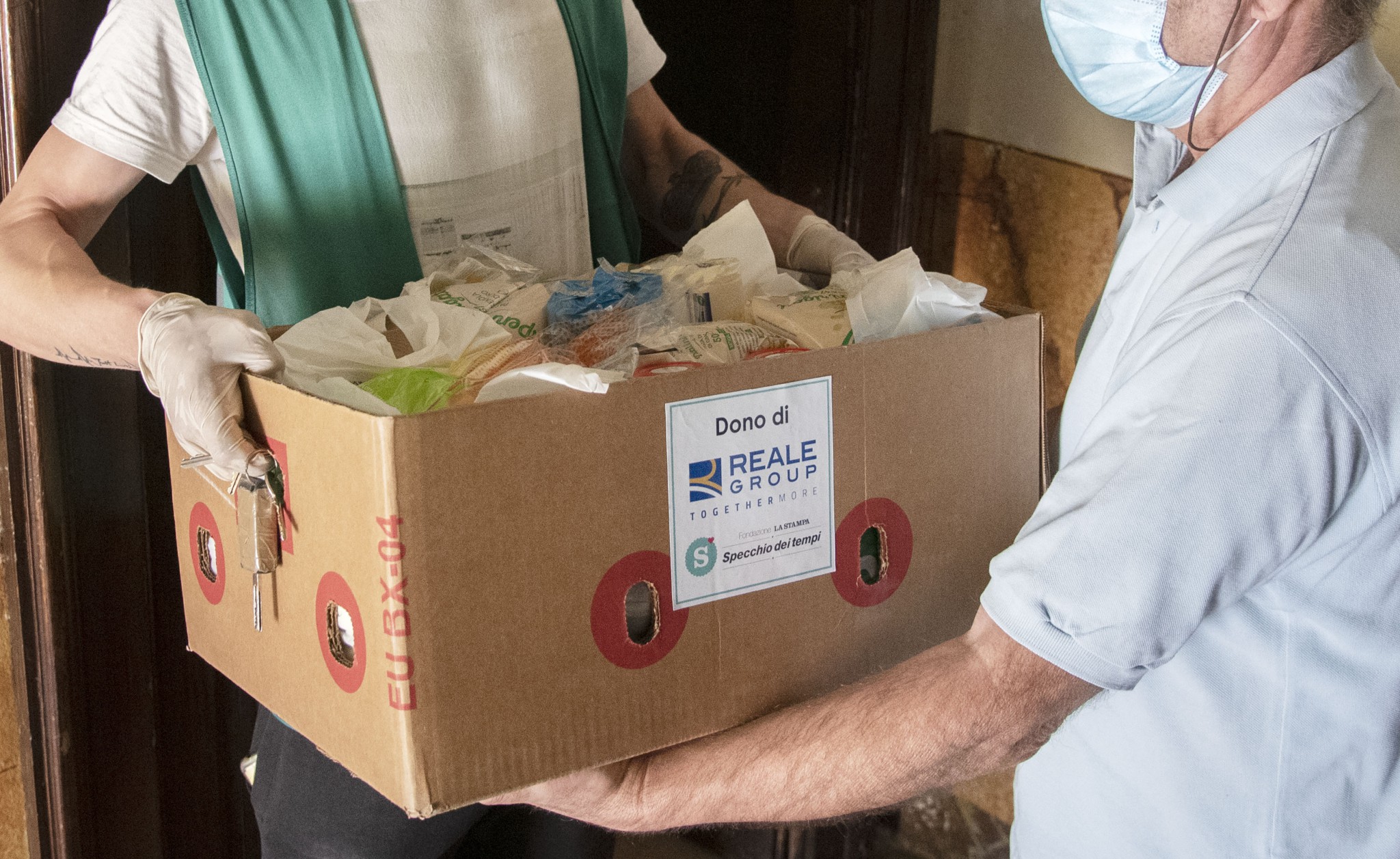 In 100 days the foundation has raised over 200 thousand euros from 67 different countries from all over the world. To name some: Puerto Rico, Pakistan, Spain, Norway, South Africa, Brazil, Canada Japan, India and  Iraq. This is probably due to the 65 years of tradition dedicated to hard work in helping in case of natural disasters all over the world, but also thanks to the contagious solidarity that has been spread on the internet.  Our website, in fact, has been translated not only in english, but also in chinese. This gave us a chance to tell our story also in China and touch the hearts of many generous people who have donated over 10 thousand euros. Germany and the UK have been, up to now, the most generous countries after the United States who have reached almost 600 donations and 90 thousand euros mostly through the  Global Giving platform. This sums up to 10%  of our donors.
What has touched our hearts is not only the outstanding numbers, but the words arriving from all over the globe. Forbes has listed Specchio as number one Onlus Foundation for donations in Italy. Which is a great honor. We can't get enough of the incredible heartfelt messages that we keep on receiving from the donors that are doing the best they can to help.  Ali Said has done what he could by donating 2 euros accompanied by a sweet message: "I wish I could do more but I am a poor man from Turkey with a minimum salary". A man from Thailand sent s a heartwarming letter: "Dear Italians, I am sending you love, light and hugs. Especially to the sick, to those who have lost their dear ones during the pandemic and all of those who are fighting daily against this virus". Salam promises to send 600 euros from Bahrain and says: "Don't ever think that the world is turning their back on you. We are here to support you in the best way possible. Stay strong Italy, you'll win against Covid".